OMC 2007 Exhibition & Conference

OMC 2007: THE UNPRECEDENTED SUCCESS!
OMC 2007 - Offshore Mediterranean Exhibition & Conference was held from Wednesday 28th to Friday 30 March 2007 at Pala De Andre', Viale Europa 1, Ravenna, Italy.
OMC 2007 is the complete event for the Mediterranean oil and gas industry as it will bring together hundreds of companies and organisations from worldwide. Anyone involved in the industry cannot miss the opportunity to participate in OMC 2007: more than 7600 attendees from Europe, America, Africa and the Middle East have participated surpassing last edition final figure of more than 1600 people!
OMC 2007 CONFERENCE PROCEEDINGS NOW AVAILABLE - (click here)



OMC 2007 POST SHOW REPORT - (click here for printable version)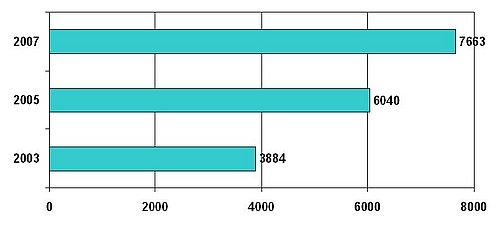 Overall OMC Attendance


OMC 2007 attracted high level technical experts, key industry professionals, specialists and decision-makers of petroleum industry who attended the event together with government officials, production managers, engineers, purchasing managers from the following market sectors:
- oil & gas equipment for exploration, production, and transportation
- pipeline engineering equipment
- drilling and downhole technology
- geological reservoir evaluation
- pollution control equipment and services
- environmental protection technology
- gas processing equipment
- plant design and construction
- marine equipment and services
- power generation equipment
- refinery and petrochemical engineering equipment.
For any information about OMC events, please contact:

exhibition@omc.it to receive information about the Exhibition

conference@omc.it to receive information about the Conference
Next Meeting: MOC 2008
Next meeting is ...

MOC 2008
Mediterranean Offshore Conference & Exhibition
May 20-22, 2008 - Alexandria, Egypt

Under the High Patronage of:
H.E. Eng. Sameh Fahmy
Minister of Petroleum of the A.R. of Egypt

Organised by:


For information, please visit www.moc2008.com or contact:

IES Srl International Exhibition Services
Ph. +39 0761 527976 / Fax. +39 0761 527945
E-mail: exhibition@moc2008.com