General Info
Visiting the exhibition is free of charge for interested professionals.
Under 18 are not admitted within the exhibiting area.

Advanced registration is strongly recommended, all requests must be submitted using the online conference registration form.
On site registrations must be paid by cash or credit card upon arrival. Cheques are not accepted.

Conference participation implies registration fees. There are several registration options:

* full registration,
* one day registration
* paying accompanying person (only 1 per delegate)

University Students are granted free access to the Conference Sessions and Special sessions and Exhibition area, provided adequate documentation is shown. Register now.

OMC 2013 working language is English. Simultaneous translation will be provided during the Opening Plenary Session only.

One copy of the conference Proceedings is included in the Conference Delegate material. Past edition proceedings or additional copies or individual papers can be purchased from the online Shop.

By tradition OMC programme offers a selection of Social events (by invitation only).
Complimentary Guided tours of Ravenna
The 20th Golf Tournament at the Adriatic Golf Club of Cervia Milano Marittima on 19th March. The same evening a Kick off Welcome Cocktail is offered at OMC 2013 Venue.
OMC Gala Dinner during which Delegates will enjoy a taste of local cuisine in a warm and elegant setting.
The Gala Concert organised in the wonderful Sant'Apollinare in Classe Basilica.
Wednesday and Thursday: 9.00 – 18.00
Friday: 9.00 – 15.00

NEW: EXHIBITORS MOVE IN WEDNESDAY 20TH MARCH: FROM 7,30 AM
Badge Collection and On-site registrations
| | |
| --- | --- |
| Tuesday 19th March | from 9.00 to 14.00 |
| Wednesday 20th March | from 8.00 to 17.30 |
| Thursday 21st March | from 8.00 to 17.30 |
| Friday 22nd March | from 8.00 to 12.00 |

Eating & Going Out
Full conference and accompanying person registrations include daily lunch and coffee breaks. Should you wish to organise a dinner party or working lunch, a variety of restaurants are available in town as well as on the beach.

Shops

Normally open Mondays through Saturdays, from 9.00 to 12.30 and from 15.30 to 19.30. Some shops in the town centre are closed on Thursday afternoon. Main shopping centers and supermarkets are open 8.00 to 20.00.

Car Parks

OMC 2013 is held at the Palazzo delle Arti e dello Sport "Mauro De André", also known as PALA DE ANDRE' located in Viale Europa, 1 - 48122 Ravenna – Italy

Pala De Andre' is on the eastern outskirts of Ravenna, a 5 minute drive from the city centre, to which it is connected by a good bus service.
It can be easily reached from the A14 motorway and from the E45 road via the network of highways connecting the city.
It is about 45 minutes by car from Bologna and Rimini airports, and 20 minutes from Forlì airport, and connected to them by the roads shown on the map.

The Exhibition and Conference venue is clearly signposted and can be reached:
by car : over 1000 parking spaces are available free of charge at Pala de André. Hundreds more are within 5 min. walk from the venue.
by bus: Metrobus Giallo and Metrobus Rosso run between Ravenna Train Station and Pala De Andre' every 10 min. throughout the day, journey time approx. 10 min.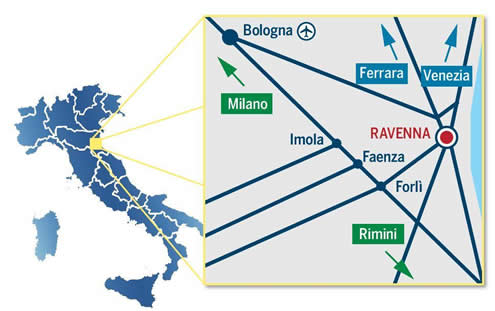 PARKING FOR VISITORS

A large parking area, free of charge is available to all OMC attendees in fron of the main entrance.
A secondary parking area is available in 10 minutes walking distance on Via Trieste, behind Cinema Astoria.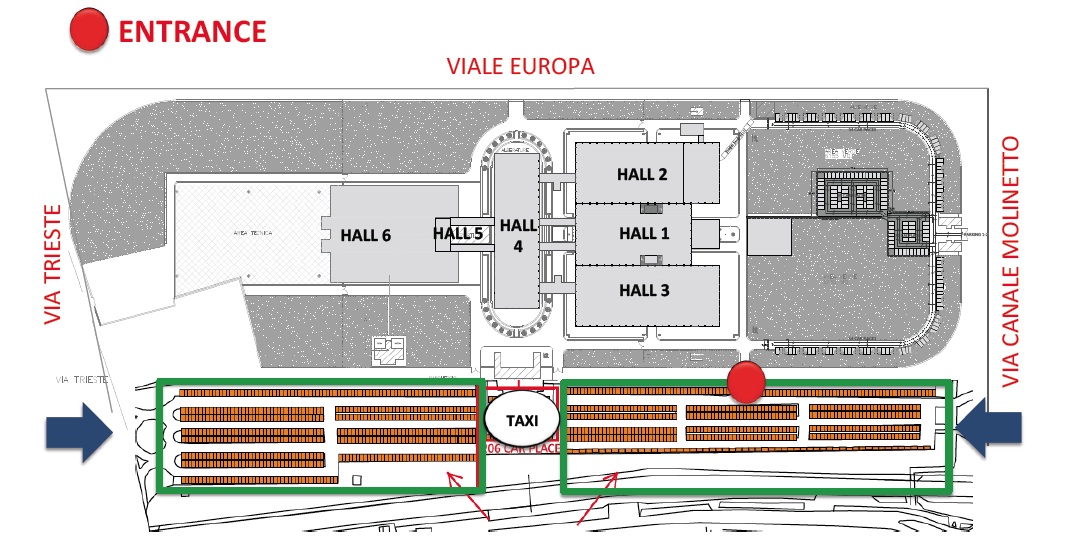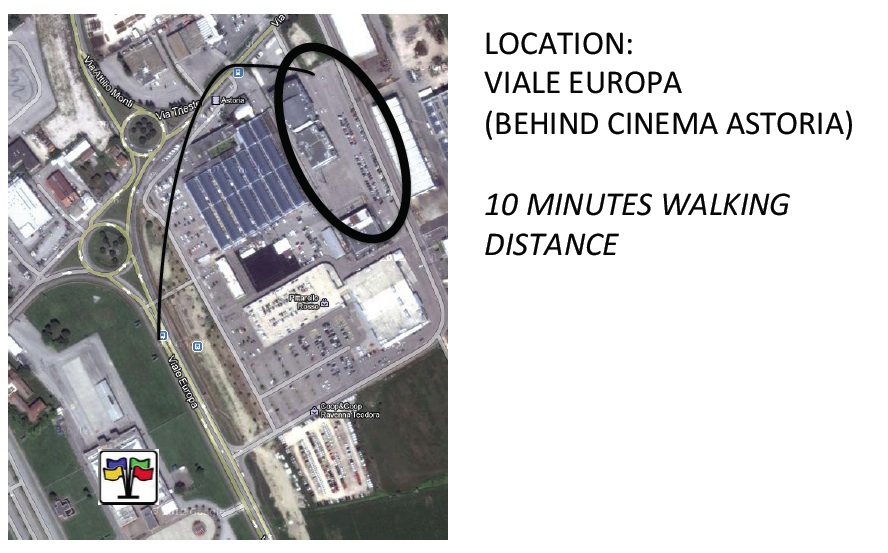 Useful Telephone Numbers
TAXI – Radio Taxi 0544 33888

POLICE STATION
Viale E. Berlinguer n. 20 – tel. 0544 294111
Emergency number: 113

HOSPITAL SANTA MARIA DELLE CROCI
Viale V. Randi n. 5 - Switchboard tel. 0544 285450
Ambulance 118

PHARMACIES
The nearest to Pala de Andrè are:
Farmacia Comunale n. 4, Via Nicolodi n. 21 – tel. 0544 421112
Farmacia del Candiano, Via Trieste n. 1 – tel. 0544 422590
Farmacia Comunale n. 8, Via Fiume Abbandonato n. 124 is open every night from 22.30 to 8.00 am

AIRPORTS
Bologna Flight Information Desk (+39) 051 6479615
Rimini Flight information Desk (+39) 0541 71571
Milan Malpensa and Linate Information Desk (+39) 02 74852200

DISCLAMER

OMC does not accept any liability for injuries/losses of whatsoever nature to delegates, exhibitors, visitors and accompanying persons, nor for loss or damages to their luggage and/or any other personal belongings. OMC isn't responsible for the accuracy of the information provided in this website.

PRIVACY POLICY

To provide future literature about our events, OMC collects information such as your address, telephone number(s) and billing information. Moreover payment information are used to fulfil orders and contact/invoice the customer if necessary. This information is collected through event registrations or information requests and cannot be distributed to other parties. Should you choose to restrict the use of your data you may not receive certain communications from OMC that may be of interest to you. Because of the nature of computer data storage, information that you restrict will not be used but will remain stored.
As provided by the Article 13 of the Italian Law 675/96 attendants are entitled to ask for change or cancellation of their personal data from OMC mailing list.