Ravenna and the whole Romagna region are ideal for a short break at any time of the year and offer everything necessary to make every leisure and business trip something to remember: sightseeing, nightlife, modern facilities, excellent cuisine.
As well as being one of the most important oil and gas cities in the Mediterranean, Ravenna is rich of monuments and mosaics from its glorious imperial past, 8 of which are listed as UNESCO world heritage.
For centuries Ravenna was the privileged meeting point of East and West, of Byzantium and Rome, continental populations and Mediterranean traditions. The port of Ravenna is still one of the most important at European level, just like it was in Roman times (port of Classe built under Emperor Octavianus Augustus.)
Ravenna province offers culture and business opportunities but also long beaches, bustling bars, modern spa resorts, golf courses, relaxing pinewoods, rolling hills with vineyards and charming small villages.
Between the blue of the Adriatic and the green of magnificent pinewoods, you find clean, orderly beaches, fascinating peaceful nature reserves to enjoy the rare and unspoilt beauty of the environment.

Click here for more info about
Guided City Walks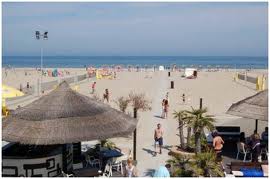 Ravenna's beaches spreads over 35 km. Each of the nine seaside resorts has its own identity but they all have excellent hotel service, good restaurants and beaches with extensive facilities and services.
From March till September they are the focal point both of day and night life for families as well as for young people who come from all over Italy to enjoy local hospitality, food, sport facilities, and when the sea is lit up by the moonlight, the amusement continues with beach parties.

CULTURE
Eight monuments listed as UNESCO World Heritage. Moreover in town is the tomb of the exiled Dante Alighieri, who decided to live here and finished the ''Divine Comedy'' shortly before his death in 1321. Also Lord Byron lodged in Ravenna during his courtship of the local Countess Guiccioli.
The MAR art gallery hosts beautiful permanent and temporary exhibitions throughout the year.
Interesting opera, plays, ballet seasons and festivals are always on offer at the two theatres in the city centre, moreover unique events in alternative locations are organized during the prestigious Ravenna Festival.
Ravenna Campus represents excellence in the studies of cultural heritage, archaeology, promotion of the environment, relations with eastern European and Mediterranean nations. Students who choose to study in Ravenna find a friendly atmosphere, quiet yet rich with opportunities to exchange experiences at an international level.

SHOPPING FOR ALL OCCASIONS
Wander Ravenna city centre to browse an array of independent boutiques, popular designer shops for clothes, shoes, bags, delicatessen, ceramics and much more

NATURE
Even if intensely modified by men the territory of Ravenna has maintained unique and evocative natural areas, conserved in protected reserves, mostly in the Po Delta regional park, which is home to animal and plant species of great interest. Several habitats are found such as the marshes, salt pans, pinewoods. Just a few kilometers offshore there is the Paguro wreck reserve, a protected biological area providing a unique opportunity for divers to observe an ecological niche where many species find shelter. In 2010 Ravenna scored 2nd at national level as city caring the most for sustainable tourism.
EATING is serious business around here! Romagna region boasts a culture dedicated to the unhurried eating and drinking of high quality, reasonably priced food and drinks. The fruitful countryside coupled with the regions's coastline provide the backdrop to the production of worldwide popular products. Fresh seafood, wine, home made pasta, extra-virgin olive oil and piadina bread are just some of the culinary strengths Romagna is famous for. They can be found in delicatessen shops, bars and kiosks as well as restaurants .
Do not miss the opportunity to get to know Ravenna !
OMC offers you 4 different guided tours of the city most famous sightseeings as well as its hidden treasures. Register now for complimentary guided tours. Contact registration@omc.it for more information.
Click here for more information about Ravenna as a destination.

TRAVELLING
OMC 2013 is held at PALA DE ANDRE' complex, located in Viale Europa, 1 - 48122 Ravenna – Italy
Pala De Andre' is on the eastern outskirts of Ravenna, a 5 minute drive from the city centre, to which it is connected by a good bus service. The Exhibition and Conference venue is clearly signposted and can be reached:
• by car : over 1000 parking spaces are available free of charge at Pala de André. Hundreds more are within 5 min. walk from the venue.
• by bus: Metrobus Giallo and Metrobus Rosso run between Ravenna Train Station and Pala De Andre' every 10 min. throughout the day, journey time approx. 10 min.
Taxis are available outside the railway station and at the Conference and Exhibition Centre. Radio taxi 0039 0544 33888
Ravenna is at the crossroad between S.S. 16 Adriatica, which runs all along the Adriatic coast, Motorway A14 (from Milan, Florence, Bologna) and Highway E45/E7, which gets directly to Rome. Ravenna can be easily reached from the A14 motorway and from the E45 road via the network of highways connecting the city.
Ravenna is about 50 minutes by car from Bologna and Rimini airports.

Approximate driving times:
Bologna 50 min.
Rimini 1 hr.
Florence 2 hr.
Venice 2 hr.
Milan 3 hr.
By Train
Ravenna can be easily reached by train from Bologna (1 ½ hours) and Rimini (1 hour) which are connected to all major national and international lines. Ravenna railway station is a 5 minute drive from OMC venue.
By Plane
There are direct regular air services into Bologna from most Italian and European airports, some of which are connected with Rimini too. Main intercontinental airports are Milan, Venice, Florence and Rome.
Airport Transfer
Riviera Congressi, OMC Official Travel Agency, provides transportation from Bologna International Airport. Book early your airport pick up!

Shuttle Service
Complimentary shuttle service is available to/from Pala de Andrè and official OMC hotels – only if booked through Riviera Congressi. Free service at the beginning and end of the working day as well as for evening social events.
By bike
In and around town cycling is very popular and safe. There's a free bike-hire service for visitors: simply pick up a key from the tourist office and enjoy the city. Plenty of routes are available along the coast, inland and to the hills.
Visa Application
The entry visa must be requested at the Italian diplomatic and consular representation in the country of residence weeks before travelling. Please note OMC supporting letter does not guarantee you will be granted a visa, nor does it commit OMC to assist you in obtaining a visa. Organisers will not pay any expenses incurred by participants.
Organisers cannot send the letter to the embassy or consulate nor contact the embassy or consulate on your behalf. It is the sole responsibility of the attendee to obtain the necessary paperwork for entry Italy in due time.