How to Get There
OMC 2013
is held at the Palazzo delle Arti e dello Sport "Mauro De André", also known as PALA DE ANDRE' located in Viale Europa, 1 - 48122 Ravenna – Italy
Pala De Andre' is on the eastern outskirts of Ravenna, a 5 minute drive from the city centre, to which it is connected by a good bus service.
It can be easily reached from the A14 motorway and from the E45 road via the network of highways connecting the city.
It is about 45 minutes by car from Bologna and Rimini airports, and 20 minutes from Forlì airport, and connected to them by the roads shown on the map.
The Exhibition and Conference venue is clearly signposted and can be reached:
by car : over 1000 parking spaces are available free of charge at Pala de André. Hundreds more are within 5 min. walk from the venue.
by bus: Metrobus Giallo and Metrobus Rosso run between Ravenna Train Station and Pala De Andre' every 10 min. throughout the day, journey time approx. 10 min.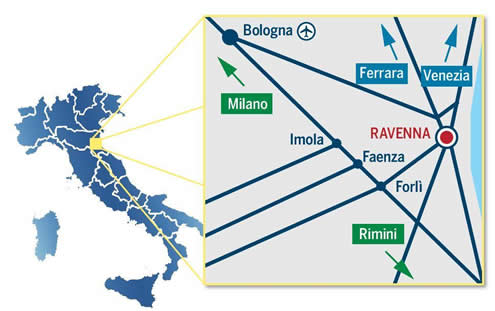 PARKING FOR VISITORS

A large parking area, free of charge is available to all OMC attendees in fron of the main entrance.
A secondary parking area is available in 10 minutes walking distance on Via Trieste, behind Cinema Astoria.