Claudio Descalzi and Tarek El Molla will take part in the inauguration of OMC 2019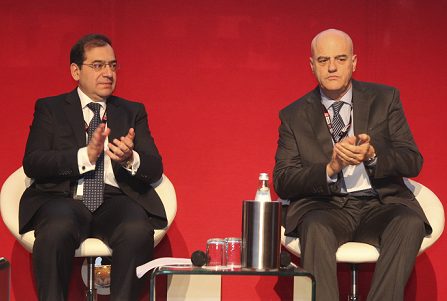 Enzo Titone, Chairman of OMC 2019, announced the first important personalities who will join in the opening day of the 14th edition of the Offshore Mediterranean Conference, scheduled in Ravenna from March 27th to 29th 2019 and focused on "Expanding the Mediterranean Energy Sector - Fuelling Regional Growth": the Mediterranean energy development in support of the economic and social growth of the countries overlooking the area.
"On the opening day, March 27 - explains Titone – we can confirm the presence of Eni's CEO, Claudio Descalzi, and Egypt's Minister of Petroleum, Tarek El Molla. The latter will also take part, with other ministers of the Mediterranean area, in the afternoon panel on the implementation of a Gas Hub for the export of gas. The representatives of the energy ministries of Greece and Lebanon are confirmed for the panel of 28 March, focused on the potential of their respective countries".
The Mediterranean represents a bridge between production countries (the African area) and Europe, which is a big energy consumer. "On the first hand - adds the Chairman - we need to offer, to the producer countries, the possibility of progressive sustainable development and improvement of the living conditions of the population, using the huge discoveries of gas but also the energy component from renewable sources they are rich of. On the other hand there is Europe, a big energy consumer, engaged in diversifying the sources of energy supply. The Mediterranean lies among them, just as a bridge".